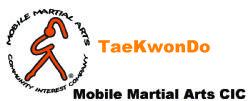 About Mobile Martial Arts CIC (Croxley Taekwondo)
Mobile Martial Arts CIC (Croxley TaekwonDo) are practitioners of Kukkiwon TaeKwondo Members of the UKTDC and BTC.Croxley TaeKwonDo achieved the standard required and is hereby awarded Clubmark Accreditation.
Mobile Martial Arts Community Interest Company has been created to help overcome financial obstacles preventing some Adults and Children from participating in organised sport. To provide those in financial need, access to the positive experience of Martial Arts. We believe that Martial Arts and physical activity provides a life-long opportunity for self-expression, goal setting, dedication, positive thinking and increased Self Confidence for all. Young and Old can learn more than athletic skills from Martial Arts. That can provide a lifelong opportunity for self-expression and self-discovery. Sport challenges can teach children the value of leadership, desire, planning, practice, hard work, honesty, sacrifice, dedication, positive thinking, Courtesy, Integrity, Perseverance, Self-control, Indomitable Spirit and self-confidence. Martial Arts emphasises exercise, commitment, discipline, and conditioning, and can start children on the path to a healthy lifestyle. A healthy lifestyle begun at a young age can last a lifetime and benefit not only the child, But the rest of the community.