Update 16th July 2020:
A number of documents relating to the reopening of our Taekwondo schools and dojangs have been sent to our member organisations. Please contact your member organisation of the BTC for a copy of all docuemnts.
The devolved administrations have their own criteria and anticipated dates for return to both outdoor and indoor activities. Clubs must refer to their home country government guidance and align it with the NGB supporting attachments.
The BTC advises that clubs in all countries review the documents with the understanding:
This pandemic continues to evolve and guidelines are subject to change. BTC instructors must at all times refer to the BTC guidelines, policies and procedures, however common sense should ensure that all participants, spectators, etc, are kept safe and have a clear understanding of the club's operating procedures.
BTC Executive
15th June 2020, updated 17th July 2020: The British Taekwondo Council have issued updated NGB Guidance and a Risk Assessment tool for use by BTC Club Instructors to facilitate the safe Return to Play, in line with Sport England guidelines
NSPCC/CPSU Advanced Standards in Safeguarding
BTC has worked hard for many years to achieve Advanced Standards in Safeguarding. All BTC clubs are entitled to display the following NSPCC/CPSU logo when accompanied by the statement detailed: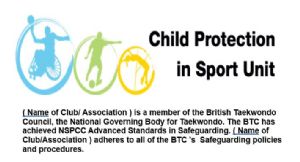 Safeguarding Code in Martial Arts
The British Taekwondo Council are working closely with Sport England and the Safeguarding Code in Martial Arts. BTC Ltd are fully committed to the safeguarding code and a safe club. Currently the BTC Ltd hold advanced standards in safeguarding and fulfil the safety code as stated on their website.
To find out more information visit here <!================================================================[endif]==================================================================><!==================================================================[if gte mso 9]================================================================>