15th June 2020: The British Taekwondo Council have issued updated NGB Guidance and a Risk Assessment tool for use by BTC Club Instructors to facilitate the safe Return to Play, in line with Sport England guidelines
NSPCC/CPSU Advanced Standards in Safeguarding
BTC has worked hard for many years to achieve Advanced Standards in Safeguarding. All BTC clubs are entitled to display the following NSPCC/CPSU logo when accompanied by the statement detailed: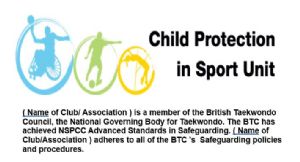 Safeguarding Code in Martial Arts
The British Taekwondo Council are working closely with Sport England and the Safeguarding Code in Martial Arts. BTC Ltd are fully committed to the safeguarding code and a safe club. Currently the BTC Ltd hold advanced standards in safeguarding and fulfil the safety code as stated on their website.
To find out more information visit here <!======================================================[endif]========================================================><!========================================================[if gte mso 9]======================================================>