Identification
BTC Registered Instructors are required to gain NGB accreditation when they commence teaching Taekwondo. This accreditation is renewed every three years and comprises:
BTC Registered Instructors Course (BTC Policies and Procedures - Code of Conduct and Ethics, Equity, Communications and Social Media, Health and Safety, Insurance)
Enhanced DBS/PVG Scheme/AccessNI Certificate
BTC Basic Safeguarding Awareness Certificate
First Aid Qualification
Professional Indemnity Insurance
Current membership of BTC Member Organisation
Confirmation of a BTC Registered Instructors status is detailed in their personal profile - go to Members on the blue tab above and search on forename and/or surname.
Please note: An instructor's profile may carry a notice 'Pending DBS/PVG' - this means that the individual has attended the Registered Instructor and Basic Safeguarding Awareness courses, has Professional Indemnity Insurance and the national governing body (BTC) is awaiting receipt of a copy of their DBS/PVG Scheme/AccessNI Certificate. The instructor is monitored by their Member Organisation in the interim. If the instructor does not yet have a First Aid qualification, risk assessments are undertaken and mitigations put in place, ie accompanied by someone with a current First Aid qualification or there are clear and accessible first aid arrangements in the training facility, until such time as the instructor gains a First Aid qualification.
The BTC/NSPCC Time To Listen Course (Advanced Standards in Safeguarding) is a club accreditation (rather than instructor) offered to club instructors (optional) and Club Welfare Officers (mandatory).
BTC Instructors have the following identification.
We consider it a compliment if asked to produce this documentation before any contract is agreed for Hall Hire.
If in any doubt please Contact Us
Photo ID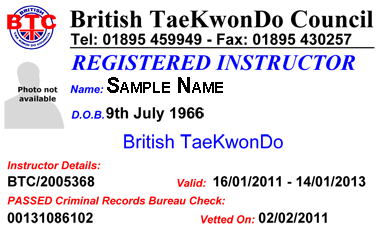 A4 Certification