Touch Gloves Event at Upton Community Centre Widnes
15th May 2014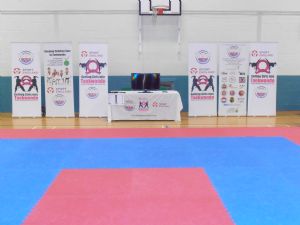 On Sunday at Upton Community Centre in Widnes, as part of their commitment to their Governing Body Strategy, Supreme Taekwondo Academy, members of the English Taekwondo Federation, embraced the Touch Gloves initiative
On Sunday at Upton Community Centre in Widnes, as part of their commitment to their Governing Body Strategy, Supreme Taekwondo Academy, members of the English Taekwondo Federation, embraced the Touch Gloves initiative by dedicating one ring at their annual tournament to promote the initiative of getting girls into Taekwondo both to their local community and to visitors at the event.

Master Lee Heyes, Chairman of the ETF and a Director of BTC Ltd, said he was very pleased with the interest and comments of the promotion from everybody who was at the event.

On behalf of BTC Ltd, he thanked everybody involved in the promotion and gave a special thanks to Master Lee Beddows, Chief Instructor of Supreme Taekwondo Academy, for their efforts on the day in making the promotion a huge success.