BTC Safeguarding Tutors Course
14th April 2014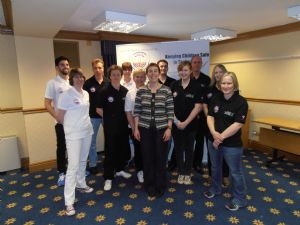 The successful BTC tutors with CPSU Support officer Jude Toasland.
10 BTC tutors achieve CPSU/NSPCC qualification to deliver Time to Listen courses
A busy weekend for us, on Sunday 13th April 2014, the BTC in conjunction with the CPSU/NSPCC, held a Safeguarding Tutor Course at the Hilton Hotel in Warwick, the objective of the course was to train BTC instructors to become national qualified safeguarding tutors to deliver Time to Listen courses for Club Welfare Officers.
All candidates were successful in qualifying to become tutors and the BTC now have 10 tutors available to deliver these courses throughout the country.
Kevin Beddows, BTC Lead Safeguarding Officer, would like to thank everybody for their attendance and effort in making the course a huge success.