Touch Gloves launched at Cabot Circus, Bristol
12th March 2014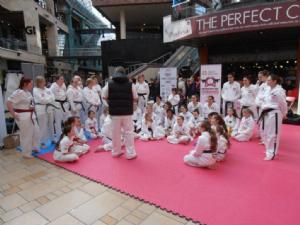 On the 8th March 2014, International Women's Day, the National Governing Body for Taekwondo in the UK, British Taekwondo Council (BTC) launched the first introductory demonstration of Touch Gloves, its programme to promote the participation of girls and women in the martial art.
Sport England has provided funding to support the Touch Gloves initiative. Olympic successes in Taekwondo, Boxing and Judo have fuelled female interest in a martial arts which, in the past, have been seen as a male preserve. Cabot Circus in Bristol provided a stunning venue for this event. Throughout the day, spectators thronged to watch some 50 female martial artists of all ages and abilities demonstrate a range of Taekwondo activities – warming up exercises, cardio-vascular and core strength training, traditional patterns, sparring, power and breaking techniques, and self defence routines. On-lookers gained a true sense of the fun, fitness and friendship that can be gained from Taekwondo training. BTC officers, together with students' supporters, were on hand to give information. On the day, expressions of interest in taking up the martial art exceeded expectations and BTC clubs in the Bristol area look forward to welcoming respondents to continue their Touch Gloves training. Girls and women who expressed interested received a free T shirt and a voucher for training sessions. Further Touch Gloves demonstrations are planned throughout England. Anyone interested in Taekwondo is invited to visit the BTC website, www.tkdcouncil.org. BTC-registered clubs in your area may be found by searching under 'Find a BTC Club'.