BTC's This Girl Can (Touch Gloves) Road show moves up a gear.
19th September 2015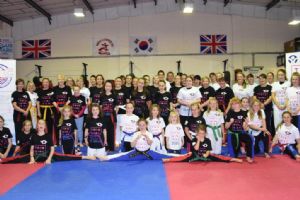 BTC's This Girl Can (Touch Gloves) Road show moves up a gear.
Another huge success story for our Touch Gloves project, getting females involved in a sporting activity in their spare time.
BTC in conjunction with Wirral & Chester Taekwondo Academy (TAGB) ran another hugely successful BTC event on Wednesday 16th September.
In the 2 hour session more than 100 females of all ages took part, they were made up from students who had invited parents and friends and parents who had invited their children and friends to come along and experience the benefits of Taekwondo as a physical activity.
The exercise proved to be a huge success with over 20% of the participants signing up to register an interest in coming back to the academy to give it another try.
Master Richard Saunders, of Wirral & Chester Taekwondo Academy, who organised the event with Kevin Beddows from the BTC, said that he was overwhelmed with the turn out and with the enthusiasm of all of the participants.

Getting females involved with a sporting activity has always been a problem for sport's national governing bodies, but events like this, supported by Sport England and the BTC, are proving successful in providing a broader range of activities, so that all females have the opportunity to participate in a sporting environment that they feel comfortable in and these type of events certainly achieve this.
The BTC would like to thank both Master Richard Saunders and Richard Jones for organising this event.